No matter where you are on your journey, all are welcome here
Holy Week, April 14 – 21, 2019

Schedule
For full details, head to the Holy Week and Easter Services informational post.
Palm Sunday
Regular services at 5:30 pm Saturday and 8:00 am Sunday; the Palm Sunday procession will begin the 10:30 am Sunday Mass.
Maundy Thursday & Nightwatch
Agape Feast at 6:30 pm; please bring your own table service (bowl, flatware, cup). Children are encouraged!
Mass with Footwashing and Stripping of the Altar at 7:15 pm; the Nightwatch vigil (all night!) follows the Mass
Good Friday
Stations of the Cross will be observed at 9:00 am and 6:00 pm; the Good Friday Liturgy begins at 7 pm. Child Care will be provided!
Holy Saturday
Contemplative Retreat 9:00 am – 1:00 pm; Holy Saturday Liturgy at 1:00 pm
The Great Vigil of Easter
Children's Vigil at 5:30 pm; the Great Vigil will begin at sundown (around 8:33pm) and childcare will be provided
The Sunday of the Resurrection
Masses will be held at 8:00 am (celebratory but contemplative) and 10:30 am (festive mass). The 10:30 am mass will be followed by a potluck Easter Feast and an Easter Egg hunt
ALL ARE WELCOME!
---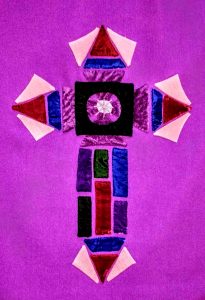 A Lenten Message from our Presiding Bishop
Lent has two quite remarkable bookends. On Ash Wednesday, we are reminded that we are dust and that God loves us even in our dustiness. At the end of this season, we will celebrate the power that God's love has to transform this world. Easter reminds us that not even death can keep us from God's unconditional love. As we follow in the footsteps of Jesus this Lent, we know that living out God's love for the world is our ultimate goal.
We also know that this walk with Jesus won't be easy. Following Jesus takes us through Good Friday and the cross. There will be struggles; there will be times when we stumble, but we are not alone. We are bound to one another as children of God. We share with Jesus in God's beloved family.
God came among us in the person of Jesus to show us how to be more than simply the human race. He came to show us how to realize God's dream, God's purpose, God's plan for us and for all creation.
Whatever devotion you practice this season of Lent, either giving up something that ties you to this world or taking on a spiritual task or discipline, let it be something that helps you participate in the movement of God's love in this world, following in the footsteps of Jesus and loving one another.
— The Most Rev. Michael Bruce Curry
The 27th Presiding Bishop of The Episcopal Church