The Home Starter Kit program is an all-volunteer ministry led by the Church of the Resurrection, in partnership with other local churches and social service agencies in Eugene and Springfield. It provides basic kitchen, bedroom and bath goods to individuals and families transitioning out of substance abuse treatment, homelessness, abusive spouse relationships, mental health programs and prison. Requests for HSK are forwarded by our partner social service agencies, such as Laurel Hill and Shelter Care.
History
The program was started in December 1993 by the late Neil and Emily Morris after the death of their son who had schizophrenia. Neil and Emily, long-standing members of the Church of the Resurrection, helped found the Lane County Chapter of the National Alliance for the Mentally Ill. With support from the Episcopal Diocese of Western Oregon, they began educating congregations throughout western Oregon about challenges faced by those with mental illness and their families.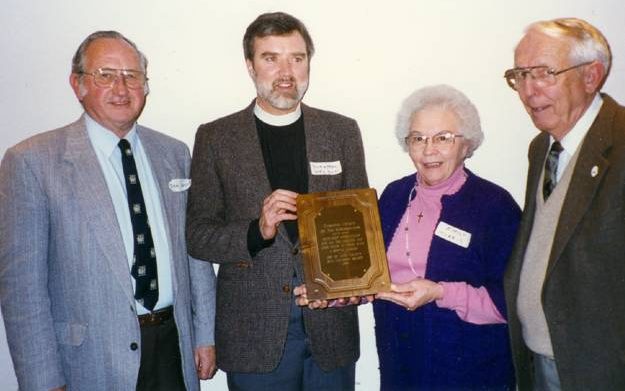 At first, Home Starter Kits (HSK) were provided to clients of Laurel Hill Center, an Eugene organization that helps people with psychiatric disabilities. An early church grant to our church helped build an economic base for the program in 1996. Additional small grants helped expand the program.
The provision of kits were extended to individuals with developmental disabilities in 2006. In 2007, the HSK program and St. Vincent DePaul's First Place Family Services joined together to provide Home Starter Kits to families who leave that program to move into homes or apartments.
From 2007 the HSK program became a multi-congregational ministry, currently involving St. John's Episcopal Church (Springfield) and St. Matthew's Episcopal Church (Eugene). Congregational members contributed funds and grants were received from a number of organizations, including the Eugene Downtown Lions Club.
In 2016 we filled 352 kit requests, serving 466 adults and 350 children! Funding from the Episcopal Bishop of Oregon Foundation helped restart the program in 2018.
The kits provide individuals and families transitioning into new homes after traumatic experiences and setbacks with some sense of normalcy and respect. At the same time ministry volunteers are also strengthened by developing deeper connections with others in need. The program provides local mission work that allows our congregation to live out our identity as faithful witnesses to God's love.
Being consistent with the Baptismal Covenant is an important part of this ministry. The Covenant asks, "Will you seek and serve Christ in all persons, loving your neighbor as yourself?" The program answers by showing Christ's love to the world in need by the care and love provided with each individual kit.
Lend a Hand
For information on donations or to help prepare and deliver kits please contact Neal Mandich at (541) 393-6948‬. All funding we receive goes directly towards kit contents.
When we resume the program in 2021, HSK Packing Parties will take place each Wednesday at 1:30pm in our yurt. Volunteers are always welcome. Contact Neal for details.
Forms for Agencies
Please note that applications can only be considered if received from partner organizations.
A PDF version of the most recent Home Starter Kit request form can be viewed here. To save this document, use your browser's file menu (e.g. for Firefox: File -> Save Page As.)
If you would like an editable copy of the form (MS Word), please contact the parish administrator at 541-686-8462 who can send it to you via email.