To contact any of the people below, you may telephone the church at 541-686-8462, or use our contact page to send an email.
Clergy
Rev Dr Bob Williams
Interim Rector
Bob Williams grew up in the Pacific Northwest, attending college in Walla Walla and graduate school at Oregon State University, where he earned a PhD.
After working for the Oregon Department of Agriculture he and his family moved to the east coast, where he worked in the pharmaceutical industry until 2001. Bob was employed by Biogen, which in 1996 introduced the first FDA-approved drug for treating multiple sclerosis.
Bob completed an Education for Ministry program before being appointed in 2007 as a lay vicar in Massachusetts. He entered discernment for ordination in 2008 and attended Andover Newton Theological School, Boston. He was ordained as a deacon in June 2011 and as a priest in January 2012.
Bob served Episcopal parishes in Oregon, New York and Massachusetts. From 2013 until his retirement in 2018 he was Rector of Saint James, Tigard. He served as Interim Rector of All Saints, Portland; then of this church since August 2020.
Bob's primary focus is to equip people to become whole in their relationships with God and each other so that they can fulfill their baptismal vocations.
Lauri Watkins
Deacon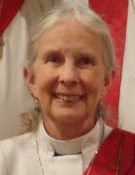 Lauri Watkins was born in Corvallis and graduated from Oregon State University. For many years she lived in Missouri and Oklahoma, and taught fourth and fifth grades for 29 years.
Lauri has been at the Church of the Resurrection since September 2019. Previously she was at St. Luke's Episcopal Church in Bartlesville, Oklahoma, where she was ordained in June 2013. With ordination came a complete lifestyle change. She was able to retire then and worked many hours in the church and in the community of Bartlesville. Her interests included Christian Education, hospice and palliative care, families in poverty, and the LGBTQ community.
Since arriving in Eugene, Lauri has focused on homelessness, housing, and families in crisis. She leads an adult education group in the church and works with Black Unity groups and racial awareness.
Lauri's husband, Mike is also a deacon, and works at St. Thomas in Eugene. Lauri and Mike have three daughters, one son, and three wonderful granddaughters.
Ministry Staff
Margret Gries, Organist
Hilary Crosswhite, Director of Children, Youth & Family Ministry
Administration
D J Venter, Parish Administrator
Vestry
Senior Warden: Nick Crump | 2023*
Co-Junior Wardens: Don Laufer | 2021 :: Robbie Forkish | 2023
Clerk: Marsha Crosswhite | 2022
Treasurer: Frank Koch
Vestry Members:
Kim Gill :: Jamie Harper | 2021
Melissa Whitten :: Melissa Handley | 2022
Karen Fabiano | 2023
[*End of term displayed]
Vestry Ministry & Reports
February 2021
January 2021
December 2020
Statement of Activities, Nov. 30
Statement of Financial Position, Nov. 30
November 2020
October 2020
September 2020