Deacon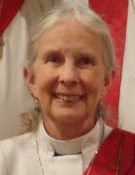 Lauri Watkins was born in Corvallis and graduated from Oregon State University. For many years she lived in Missouri and Oklahoma, and taught fourth and fifth grades for 29 years.
Lauri has been at the Church of the Resurrection since September 2019. Previously she was at St. Luke's Episcopal Church in Bartlesville, Oklahoma, where she was ordained in June 2013. With ordination came a complete lifestyle change. She was able to retire then and worked many hours in the church and in the community of Bartlesville. Her interests included Christian Education, hospice and palliative care, families in poverty, and the LGBTQ community.
Since arriving in Eugene, Lauri has focused on homelessness, housing, and families in crisis. She leads an adult education group in the church and works with Black Unity groups and racial awareness. Lauri's husband, Mike is also a deacon, and works at St. Thomas in Eugene. Lauri and Mike have three daughters, one son, and three wonderful granddaughters.